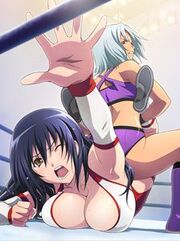 Wanna be the Strongest in the World! (世界でいちばん強くなりたい!, Sekai de Ichiban Tsuyoku Naritai!), also known as Sekatsuyo, is an anime adaption of the manga by ESE and Kiyohito Natsuki, produced by Arms Corporation.[1] The opening is "Beautiful Dreamer" (ビューティフル・ドリーマー) and is sung by Kyōko Narumi. The ending is "Fan Fanfare!!!" and is sung by Sweet Diva.
References
Edit
External Links
Edit
Ad blocker interference detected!
Wikia is a free-to-use site that makes money from advertising. We have a modified experience for viewers using ad blockers

Wikia is not accessible if you've made further modifications. Remove the custom ad blocker rule(s) and the page will load as expected.